Kenton started and finihsed 2nd in the third heat race. That put him on the outside of the third row for the A feature. He quickly moved to 4th, go shuffled back to 5th, but regained a position to finish 4th, his best finish at Humboldt this year. He will head down to Caney Valley Speedway on Saturday. Hope to see you there!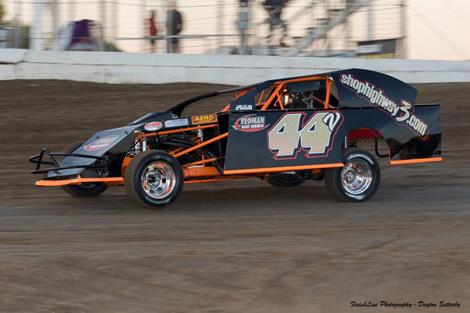 Trevor Vann Picks Up First Win at Humboldt!
Humboldt Speedway-
The excitement for 2019 in the Love's Travel Stops Midwest Modifieds grew even greater as Ft. Scott's Trevor Vann picked up his very first Midwest Modified victory. Vann, starting outside the second row, took advantage of a mid race restart and led the closing laps in route to the win. Muilenburg and Coulter rounded out the top three. Heat race wins went to Rob Muilenburg and Mitch Coulter.
In Ray's Metal Depot NASCAR B Modifieds Tim Van Gotten brought the field to the green in A feature action with Andy Bryant to his outside. Bryant jumped out to the lead and never looked back as he picked up his third consecutive win. Tyler Kidwell, Brian McGowen, Kenton Allen and Matthew Kay rounded out the top five. Heat Race wins went to Tim Van Gotten, Andy Bryant and Brian McGowen.
In Home Savings Bank NASCAR Factory Stock Chanute's Jacob Ellison started outside the pole and had to fend off challenges from Derrek Wilson and Jon Westhoff for the A Feature win. Westhoff edged out Wilson for second. Kenny Shettler and Wayne Johnson rounded out the top five. Picking up the Heat Race wins were Jacob Ellison and Derrek Wilson.
In the always entertaining O'Reilly Auto Parts Sport Compacts Brandon Vink outdueled Barry Luthi to pick his first win on the season. James Lemke, Robert Moore and Curtis Wilson Jr. rounded out the Top five. Heat Race wins went to James Lemke and Brandon Vink
Racing returns to Humboldt Speedway on April 26th with a $1,000 to win McCarthy Auto Group USRA Modified feature Also competing that evening will be Ray's Metal Depot NASCAR B Modifieds, Home Savings Bank NASCAR Factory Stocks, Tumbleweed Music Festival Street Stocks and Love's Travel Stops NASCAR Midwest Modifieds. For more information make sure to check out www.humboldtspeedway.com for all the up to the minute news about Humboldt Speedway.
Kenton Allen T-shirts are available is youth sizes and adult sizes up to 4XL in a high-quality 50/50 red design. You can pick them up at the track or order online!