Friday, September 20, 2019
Lakeside Speedway
Kansas City, KS
Saturday, September 21, 2019
81 Speedway
Park City, KS
Saturday, September 28, 2019
Caney Valley Speedway
Caney, KS
MEMORIAL RACE $1,500 TO WIN AT HUMBOLDT
May 10, 2019
STARTED 18TH
FINISHED 14TH
31 B-MODS
Kenton started on the front row outside of the 2nd heat race. He finished 5th. That put him starting 3rd in the second B feature, only the top 4 transferring to the A. He finished 3rd. He then started the A feature on the outside of row 9. After a 30-lap sprint car feature the track was pretty much one lane on the bottom. He ended up 14th. Brian McGowen took the win! Kris Jackson, Tyler Kidwell, Ethan Issacs and Lucas Issacs rounded out the top 5.
McGowen Conquers Full Field for Whitworth Memorial Victory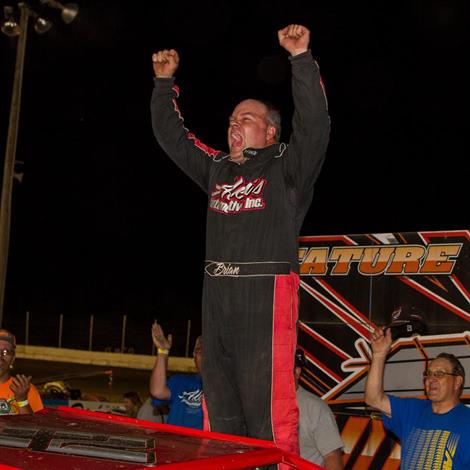 Humboldt- As racing returned to Humboldt Speedway on Friday evening, a full field of cars participated in the annual $1500 to win Whitworth Memorial B Modified Classic. Brian McGowen, from Pittsburg, Kansas, held off Kris Jackson and Tyler Kidwell to pick up the $1500 Whitworth Memorial payday. Mcgowen, starting on the pole, navigated the 20 lap A feature hugging the bottom of the speedway en route to the victory. Heat Race winners were Brian McGowen, Ethan Isaacs, Tyler Kidwell and Lucas Isaacs.
In Home Savings Bank NASCAR Factory Stocks, Chanute's Derrek Wilson held off late race challenges from Jacob Ellison and Logan Boone to pick up his second win of the year. Heat race wins went to Wilson and Kenny Shettler.
Tumbleweed Music Festival NASCAR Street Stocks saw Nick Fritch being in the right place at the right time in picking up his second win of the season. Fritch survived a late race crash that took out the two leaders, Fritch took advantage and completed the victory with a late lap pass for the win. Heat race wins went to Dalton Garrison and Devin Irvin.
In Love's Travel Stop Midwest Mod action Rob Muilenburg picked up win number three on the year outdistancing Andy Aust and Elijah Keeper. Muilenburg worked the bottom of the speedway to perfection in picking up the win.
O'Reilly Auto Parts Sports Compacts capped off the evening with Stillwell, Kansas racer David Garcia picking up his first victory at Humboldt Speedway. Earlier in the evening Garcia picked up his first Heat race win.
Racing returns to Humboldt Speedway on May 31st with the Mid Season Points Championships. Also that evening will be Kids Night with Bike Races and Power Wheels racing. Competing that evening will be Ray's Metal Depot NASCAR B Modifieds, Home Savings Bank NASCAR Factory Stocks, O'Reilly Auto Part Sport Compacts and Love's Travel Stops NASCAR Midwest Modifieds, and USRA McCarthy Auto Group Modifieds. For more information make sure to check out www.humboldtspeedway.com for all the up to the minute news about Humboldt Speedway.
Kenton Allen Racing 2019 T-Shirt
Kenton Allen T-shirts are available is youth sizes and adult sizes up to 4XL in a high-quality 50/50 red design. You can pick them up at the track or order online!