Kenton started 2nd in the 2nd heat race. He was running third until the leader spun out on his own. Kenton was able to finish 2nd the winner was Andy Bryant. In the feature Kenton started third row outside. He ran 6th or 7th most of the race, the 121 of Tim Phillips got by him right at the finish. Top 5 were Tyler Kidwell, Andy Bryant, Brian McGowen, Levi McGowen, and Matthew Kay.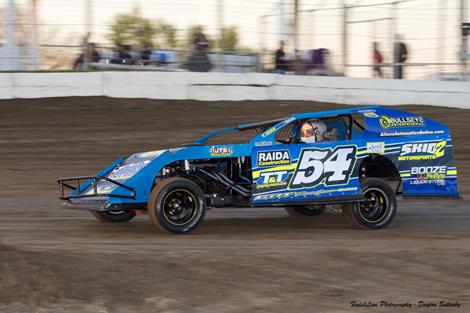 Humboldt Speedway- Warm temperatures returned to Humboldt Speedway on Friday night, as did heated action in all the classes at the 3/8th mile track in southeast Kansas. In NASCAR B Modified action, Chanute's Tyler Kidwell broke through and picked up his first win on the season in dramatic fashion. Kidwell passed Andy Bryant, winner of five features on the year, on the third lap running the ultra dangerous highline around the speedway. Kidwell maintained that lead over the twenty lap feature en route to his first win on the year. Bryant, Brian McGowen, Levi McGowen and Matthew Kay rounded out the top five. Heat race wins went to Brian McGowen, Bryant and Kay.
Home Savings Bank NASCAR Factory Stocks saw a last corner pass for the win for Chanute's Jon Westhoff. Westhoff, again running the highline, used that momentum to pass Derrek Wilson and Wayne Johnson on the final corner. WIlson had led every lap, trying to hold off Humboldt's Wayne Johnson who also ran the bottom of the speedway for the majority of the race. Westhoff, starting seventh,picked up the win. Wilson, Johnson, Tad Davis and Scott Collins completed the top five. Heat Race wins went to Norman Mackley, Wilson and Johnson.
Tumbleweed Music Festival Street Stocks saw Collinsville, Oklahoma's Dalton Garrison continue his win streak as he back up his win from last week, This time Garrison had to hold off Humboldt's Nick Fritch who closed within a car length in the waning laps of the race. Heat race win also went to Garrison.
In Love's Travel Stops Midwest Modified racing, Sparta, Missouri's Rob Muilenburg started on the pole and led every lap on his way to yet another win on the season. Muilenburg, surviving a late race restart, picked up the win over Jerry Brown and Ryan Smith. Heat Race wins went to Muilenburg and Krew Walburn.
In the night's final feature, Leavenworth's James Lemke made his two-hour haul well worth it on his way to his first A Feature win at Humboldt Speedway. The victory was a hard fought battle between Overbrook's Barry Luthi and Lemke. Luthi passed Lemke, who had led from the start, only to see Lemke regain the lead in the closing laps of the race. Heat race wins went to Lemke and Chanute's Cayden Vance.
Racing returns to Humboldt Speedway on June 14th, competing that evening will be Ray's Metal Depot NASCAR B Modifieds, Home Savings Bank NASCAR Factory Stocks, O'Reilly Auto Part Sport Compacts and OCRS (Oil Capital Racing Series) Sprints. For more information make sure to check out www.humboldtspeedway.com for all the up to the minute news about
Kenton Allen T-shirts are available is youth sizes and adult sizes up to 4XL in a high-quality 50/50 red design. You can pick them up at the track or order online!